I did my first refashion for Bug's fall wardrobe, and I love how it turned out! I took ideas from Samster Mommy's Tuxedo Tank Refashion. I got my green thermal tee that I thrifted for $1.60 and a long sleeve shirt that will fit Bug in the fall.



Cut apart the shirt at the side seams, neck seams, and sleeves.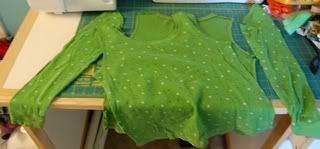 Since there are existing hems and neckbands already on the shirt, I decided to use as much of those as I could.

Using the "pattern" shirt I marked where to cut the sleeves and cut them out (Don't forget seam allowance!) The sleeves ended up being a pretty close match to the pattern shirt, so I left them as is.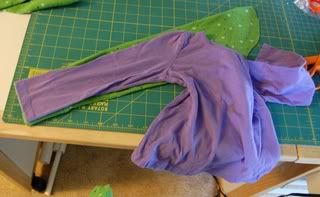 Now lay the pattern shirt on top of the front piece of the shirt. I lined up the middle of both shirts, and made sure that the FRONT necklines on both shirts were matching up. I marked the cutting lines for the shoulder and sleeves.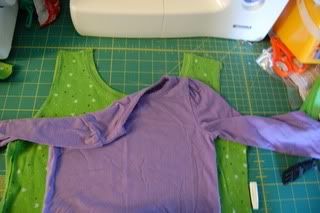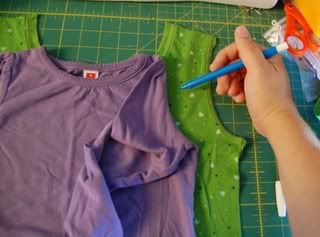 Fold the shirt in half and cut along the lines. I prefer to use a rotary cutter for most of my cutting, and a quilting ruler for straight cuts. Repeat with the back of the shirt.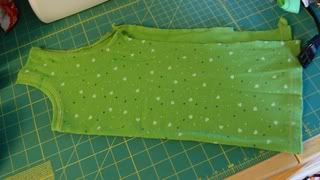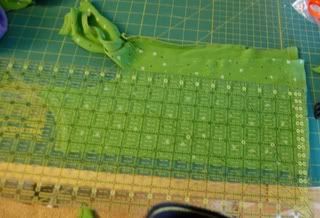 Using the strips left over from trimming down the sides of the shirt, cut five 1" wide strips of fabric.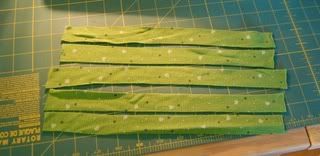 To ruffle them, set your tension to 0 and use a long stitch length. Sew down the length of the fabric without tacking down your stitches. Then by tugging on the bobbin thread you can gather the fabric into a ruffle.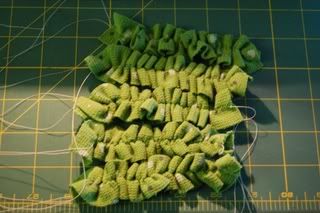 Pin your ruffles to the shirt and when they look right sew them down. I had to trim my ruffles to get the v-shape. Don't forget to put your tension and stitch length back to normal :)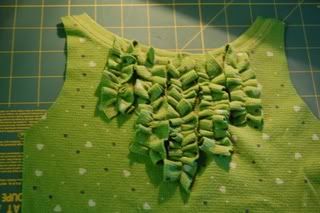 Stack the front and back of the shirt, right sides together, and sew up the seams by the neck.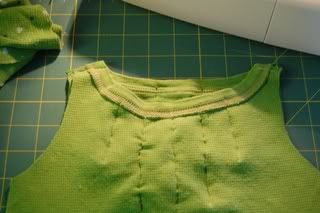 Hello Beautiful!



Serge (or stitch with a zig zag or stretch stitch) down the side seams.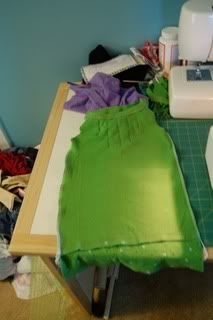 Lay out a sleeve on the shirt and pull inside of the hole. Make sure that right sides are together and the seam on the sleeve matches up to the side seam. Pin and serge (or stretch stitch or zig zag). Repeat with the other sleeve.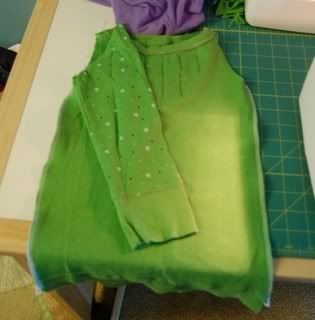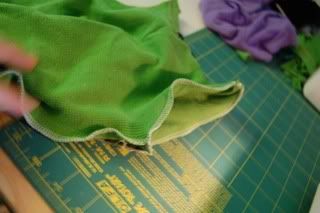 Admire your handiwork, my shirt is just about the same size as the pattern shirt. I think I want to leave the hem a little longer on mine.



Sigh and wish for a coverstitching machine, then hem the shirt. I like to use a twin needle in absence of a coverstitching machine. You could also just cut to length and leave the raw edge, it won't unravel.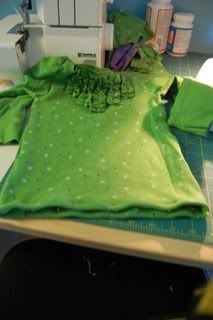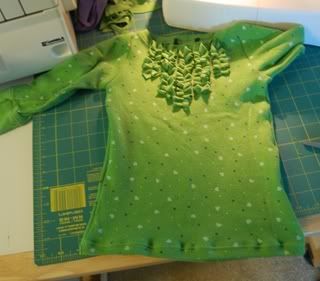 Try on toddler in the dead of summer:) It should be perfect in a month or two!