I love sewing for my girl. Dresses, skirts, ruffles, bows, I love it all (in any color except pink). But I did get awfully jealous of people that had little boys to sew for as well, especially when
Dana
and
Rae
put on the
Celebrate the Boy
series. When I found I had a little boy to sew for in August I was THRILLED and couldn't wait to get started on some little boy clothes and diapers. I still have my one size pocket diapers that I used with Bug, so I was just updating my diaper stash a little bit.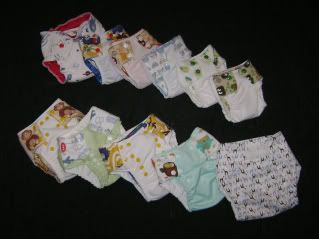 1 newborn fitted from the free
Darling Diapers Unlimited pattern
, 5 newborn all in 2's from the
LaDiDa
pattern, 4 one size pocket diapers from the LaDiDa pattern, and 1 one size pocket diaper from my own pattern.
These are all wool longies meant to be used as diaper covers. They are all made from the free
Katrina longies pattern
. I used wool sweaters I thrifted to make them. These first 3 pairs are newborn size, they are so itty bitty! Nate has pretty much outgrown them now, but they fit for about 2 weeks.
Size smalls
Size mediums
12 fitted diapers made from the precut kits sold
here
at
wazoodle.com
. I actually love the fit of these, although the absorbency could be a little better. I'm thinking about ordering a kit for a dozen mediums. It was really nice not to have to cut out all the pieces, they went together very quickly.
Infant Lap Tees, as seen on my
tutorial
. The tees started getting a little snug at a little over 10 pounds for him, perhaps his broad shoulders were part of the problem :)
Pants!! I used a pattern from an
Ottobre magazine
for these pants. I love how professional they look, they've got so many cute little details. They seem to be a bit big for the 0-3 month size range that they were meant for though.
These shirts are my favorite part. I got to use all of the adorable knits that I was using in things for friends with boys and for my etsy shop. It was very satisfying to be able to use them for myself :) Also made using an Ottobre pattern.
Hopefully the outfits will fit him soon, then I can share pictures of the clothes on a baby, much more gratifying and infinitely more adorable!